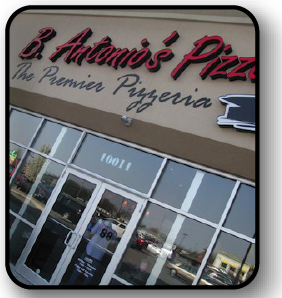 B. Antonio's first opened in April, 2006 when we combined our love for serving people with our expertise in the restaurant industry.  When done correctly, the pizzeria business is like no other, and it didn't take us long to realize that it had become a passion and that we never wanted to leave.
We truly believe that our growth is the result of hard work and developing a spirit to serve.  Simply put, people matter – we exist only to please the people who choose to dine with us.  This same principle has been passed on to our staff as well.  Although we're not able to personally meet as many customers as we once were, our staff carries out our ideal of putting the customer first and delivering the B. Antonio's pizzeria experience every time.
Although our pizzas are not the cheapest in town, we do believe in reasonable prices. However, we also believe in paying for honest, quality ingredients and paying a fair wage to our employees. We recently increased pay rates across the board and strive to pay our people a living wage, because we have many people that support themselves and their family on this career.
Our pizzas aren't always the fastest either. We still make pizzas and toss dough the same way as when we opened, which is the way we learned from the old-fashioned mentors we had for years before opening our own restaurant. This might mean our food takes a little longer, but it's well worth it.
Our vision for the future lies in our commitment of excellence to our customers.  B. Antonio's will continue to bring you state-of-the-art restaurants, delicious food, and exceptional service for years to come.  If you ever have any comments, suggestions, or complaints, please let us know.
Thanks for Choosing B. Antonio's
        – Ben & Mandi